This post forms the very beginning of a journey.
Inspired by the great work, creative community and positive impact of BarCamp Brighton, The Skiff in Brighton, The Werks in Hove and the vision of Tuttle on Tour, I'm currently investigating the creation of Kent's first open coworking space for Creatives and Digital freelancers in Rochester – perhaps a space like this!👇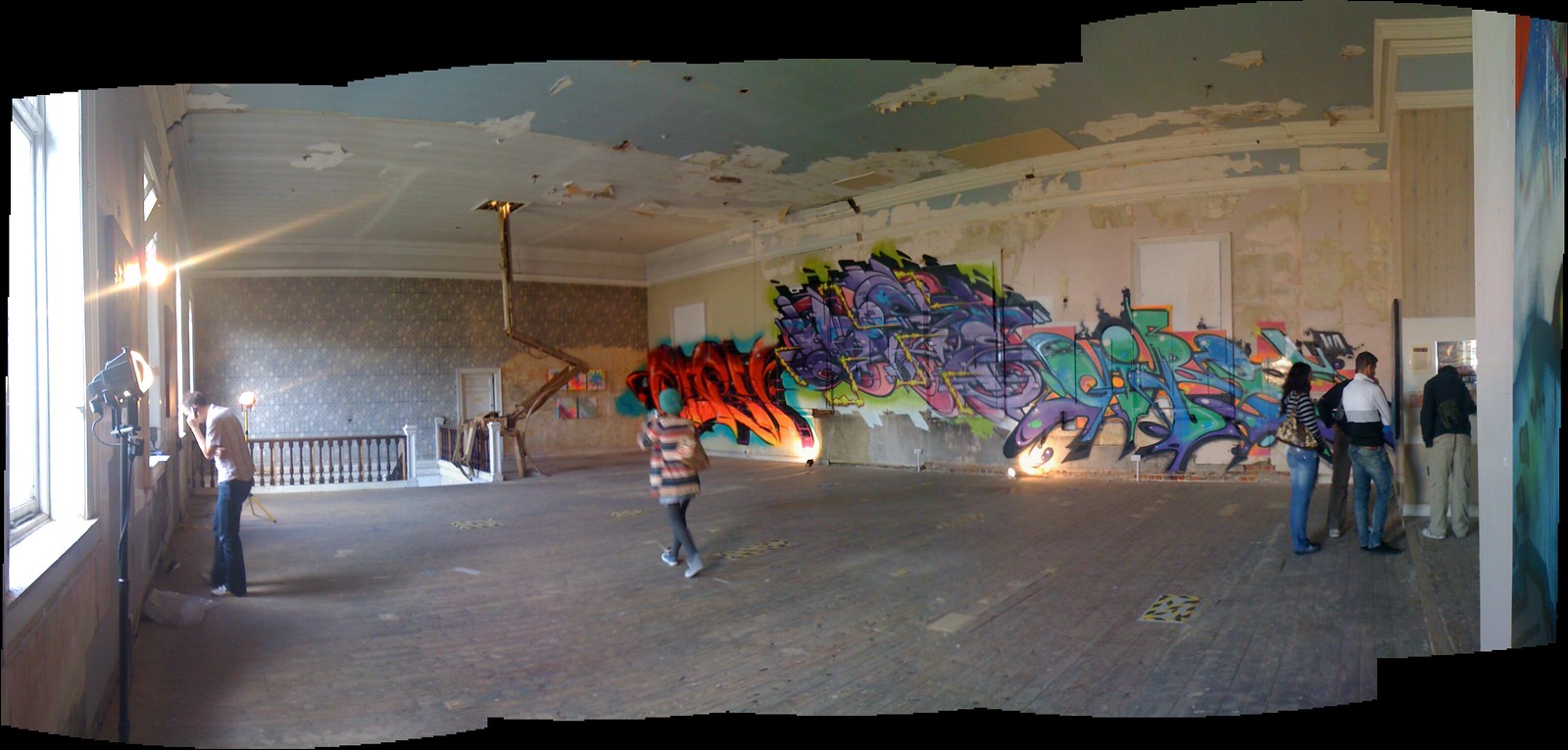 Nine weeks ago, whilst delivering some design and Creative Midwifery for a new client, they randomly and unexpectedly offered me a 2400 sq.ft. open-plan studio space in a currently derelict yet commercially licensed building that is approximately 4 minutes walk from Rochester train station, 3 minutes walk from a large public car park, a stones throw away from a large block of creative student housing, and 6 minutes walk from the Rochester campus of the UK's first Creative Arts University (UCA).
The building in question was the disused art-deco fronted factory, formerly housing Spemco Printed Circuitboards.
I've seen growing numbers of derelict and vacated buildings in my local area, and stumbled across a variety of Creative Community Initiatives from twitter folk such as @artistsmakers and @p45Camp – all have gotten me thinking…
Now I have an idea rather than a clear thought out plan but I have had some interesting conversations already, combined with the fact I've been pondering a 'BarCamp Kent' for about 5 months now after finding a potential venue in Canterbury - I'd love your thoughts and input on the following please =)
The vision… 2400 sq.ft (including toilets, two self contained offices, a kitchen area and a large open plan space)… it could be the perfect coworking space for freelancers, start-ups and students to relax, work, drink coffee and hopefully collaborate and innovate 24hrs a day; the building in question has two additional floors which could be developed over time to support the wider creative community and the buildings basement might work as a local-band/musician practice area. I'd simply like to help the creative and digital folk of Medway (and Kent) by connecting them with each other and the wider *vibrant* communities such as Brighton (many of whom seem to originate from Medway) and introduce them to what I see as 'perfectly logical yet seemingly innovative community philosophies' such as BarCamp, Tuttle and FREE & Unlocked Wi-Fi (as yet overlooked by local creatives, business communities, local academic institutions and even Medway coffee shops – Eg. the NUCLEUS Arts Cafe does supply WiFi to paying customers via a login code upon placing an order but this still isn't Free Unlocked Wifi). Given the current economic climate and societies growing lack of employment, self-esteem and self-worth I view free and open internet connectivity in community spaces as a valuable civic must have.
Over the years, and within existing and future strategy, Medway authorities and Kent focused development agencies have spent (and will continue to spend) £millions investing government funds and tax payers money into renovating and building minimalist glass-filled office spaces and calling them Innovation Centers, and charging start-ups and freelancers a minimum of £300 per month for serviced space that has no real 'innovation' value or any encouraged/flourishing *sense of community* except a canteen like break-out space and a meeting room which can only be rented by the hour provided they can afford £15+ a time, and providing a host of monthly *traditional* corporate run networking events that are focused on the short-term bottom line and Return on Investment [ROI] rather that long-term Inspiration, Innovation, Collaboration/Connection and Social Return on Investment [SROI] – the things that really drive new ideas, conversations and actions!
I'd like to provide a space (nothing flash but clean, dry, secure, with kitchen and toilet) that houses some comfy weathered sofas, a few beanbags, some chairs and desks, book shelf, free Wi-Fi, some power sockets and a decent coffee machine (with an available free meeting room and projector for anyone who needs it). I'd then like to focus efforts on what I believe would truly help support and develop a sense of *creatively inspired community* within Medway's (Kent's) creative/digital freelance and student community (encouragement, inspiration, play and conversation).
Remember, a first-floor 2400 sq.ft is a big space, and given that other floors are potentially available, I'm thinking BarCamp Kent and other fun stuff, including after hours social media workshops, portfolio discussions, and creative sessions for students and businesses - bring on your ideas!
Given the seemingly low rates I've currently been offered (about £800 - £1000 per month +rates +bills) and a likely required upfront investment of £5000-8000 to fit and furnish the space (with second-hand essentials), I think we're looking for approximately 8-10 freelancers who'd be willing to commit approximately £100-150 per month for a full time coworking desk (with full access and priority to free meeting spaces and facilities). Then I'd look to fund the rest of the space in other ways such as Workshop footfall (Social Media is just one growing area where I know many a professional who could do a talk or skill-swap). I of course understand there will be legal requirements (Ie. insurance, etc) and processes to abide by but I'll be looking to avoid traditional funders and authorities who'll clog everything up with red tape, middle men and ownership issues - in my view, the space should be owned and run by the community with the freedom to do what they want in it (within reason of course).
I'm not saying that any such space will be realised quickly (or ever), this thinking (and your input) may simply help figure out a path forward in terms of feasibility. Nothing is confirmed and I have no idea how to realise it yet. As things stand I'm simply hoping to organize a Medway based Tuttle to get people together and see if the 'Digital Creative' (and broader creative community) might be interested. Do the right community players exist for such a space to be sustainable long-term? Look out for tuttle101
Either way, I look forward to hearing your thoughts!
---
---
A little more background if helpful:

As some of you may be aware I live in Medway (Kent, UK) but have spent much of my past 3 years travelling in a triangle between Kent, London and Brighton – mostly on public transport and mainly for client work, attending events, collaborating with creative/digital thinkers and fellow coffee drinkers (with the occasional pint of Guinness thrown in for good measure). In mid 2008, in addition to my Medway based studio commitments, I made a decision to support the opening of a new Brighton based coworking space by taking on two full-time desks at The Skiff; a space founded by my friends and colleagues @jot and @AnnaMarkwell at Inuda Innovations (their company developed my original SustainableWidget.com prototype) – here is us getting The Skiff keys!
My intention at the time was to move my professional and personal life from Medway to Brighton (the additional desk being available to freelancers I work with, or simply available to the wider community when vacant). A life-changing decision to move away from my long standing friends and family, a financial gamble with a good cause, but a decision based on a comparative fact:
"Compared to Medway (where I have lived, studied, teach occasionally, and have started two businesses during the past 8 years) Brighton has proven itself time and again to have a *better* vibrant, creative and digital *sense of community* populated by some truly wonderful folk." (Massive thanks to twitter folk including @thinkgareth @stevepurkiss @edevries @richtextformat and @jot - you are all legends!).
Many such folk have welcomed me on-board their creative projects and even offered up their sofas, spare beds and meeting-room floors as a place for me to work or sleep during random last minute trips South to commission or work with some really great Brighton based clients and to attend amazing events such as BarCamp. (Here's just a few such events: BrightonBarCamp, BrightonTuttle, dConstruct, Full-Frontal, Widgety Goodness…) The sense of *creative community* to which I refer is something I find hard to summarize in words (energy, buzz, enthusiasm, anything is possible, #tuttle-esq…), but it is certainly something I haven't experienced in Kent apart from my early days studying at Kent Institute of Art & Design (KIAD) back in 1997.
After 25 years local experience I can say for certain that Kent (and specifically Medway) is home to many businesses (including many *traditional* design, marketing, technology and engineering companies) and it appears rife with industrial estates and enterprise hubs for small businesses, as well as a newly opened Innovation Centre (which as far as I can tell is more focused on business rent than actual innovation). Over recent years (since at least 2006) Medway has become the focus of much Regional Investment and Regeneration and is viewed and written about by local councils and development agencies as a world class region for tourism and culture, and there appears to be a strategic plan of transformation into a city of learning, culture, tourism and enterprise by 2016 (and I've heard Academics, Strategists and Consultants talking publicly about Medway being at the heart of the South East Creative & Digital Economy). In support of the above thinking, Kent is home to three campus of the UK's first Creative Arts University (one of which is in Medway, plus a host of other academic institutions including Canterbury Christ Church University and University of Greenwich). Medway is also home to funded initiatives such as The Joiners Workshop (a £3+million Space for Creative Businesses) and the NUCLEUS Arts Centre (formerly the New Art Centre - the largest artist's studio complex in North Kent).
There are also excellent community initiatives such as 'Made In Medway' driven and founded by designer Steve Rowland (who as it happens used to be Brighton based).
Yet with all of the above in mind, and with my local network spanning Creatives, Developers, Academia/Learning, Training & Development and organizations such as MEBP I still feel a lacking sense of local 'innovative energy' and that frustrates me greatly. Partly because it doesn't aid my personal creativity, but more importantly because (exactly as Steve Rowland believes too) I'm convinced that the area is full of passionate and creative musicians, artists, designers, sculptures, film-makers and technologists (including media folks and web-developers) who are spending their days working from their back bedrooms (or even in jobs they hate) because they lack the creative infrastructure they'd need to be a freelancer (or even feel that they could be). I believe that freelance doers don't need full-time offices or enterprise hubs, nor can they afford one - I'm convinced that they do what they do because they love it, they don't do it for the money (the truth is most would do it for free if they felt valued and could afford a roof over their head, a mug of warm coffee and the occasional pint of Guinness - and I'm referring to ladies too). We do it because we want to communicate and express, some want feedback, exchange and conversation but most just need to know they are not alone - they don't fit the traditional business plan model. Brighton has coffee shops with sofas, open Wi-Fi and a non-plastic, friendly atmosphere where developers and creative thinkers can go to talk, work from their laptop and moleskine notebooks, think and meet - its cheaper than an office but its probably more valuable. All of the enterprise hubs and £3m Innovation Centre's in Medway are commercial, sure they have "modern break-out spaces" and "hot desks" but I think these should be replaced by interesting social spaces with weathered old comfy sofas where anyone can kick their shoes off and sit with a laptop, book or paintbrush, and bounce ideas.
For Monday 5th October 2009 I'm planning Tuttle101