In 1999 a soap salesman called Tyler Durden told me "The things you own end up owning you". Since then I've been extremely intentional about what I own and why. I do my best to "Buy well. Buy once."
My brain prefers order over clutter so I don't own many things. I even keep a record of all my worldly possessions in a visual catalogue spreadsheet on Airtable. 192 items at my last count.
I don't count hoodies, t-shirts, socks or usb cables but I really don't own many. I count a pair of shoes in a box as 1 item. Two hundred possessions would feel like too many. I struggle to understand how or why there are 300,000 items in the average American home (LA Times).

There are of course a few things that really can make our lives easier and better and we should treasure them. John Wildsmith, a third-generation English shoe-maker, famously said "You are either in your bed or in your shoes, so it pays to invest in both."
A good nights sleep and a comfortable pair of shoes are priceless. I look after and appreciate the things I own in an attempt to make them last. Replacing broken or worn items often feels like a nightmare of upheaval and system change, especially if I can't replace them with the exact same tried and trusted model. But sometimes we are left without a choice.
On 7th May 2023 I sent a direct message to a stranger on twitter:
"Hi… I own a pair of old Fiorentini + Baker calf leather shoes that multiple cobblers tell me can't be repaired. Basically, the leather has split and come away where the shoe meets the sole so they are now useless as shoes. But the leather just seems too good to throw out – is it any good to you? See photos. I'll happily post them to you if they are any good to you. No cost to you at all."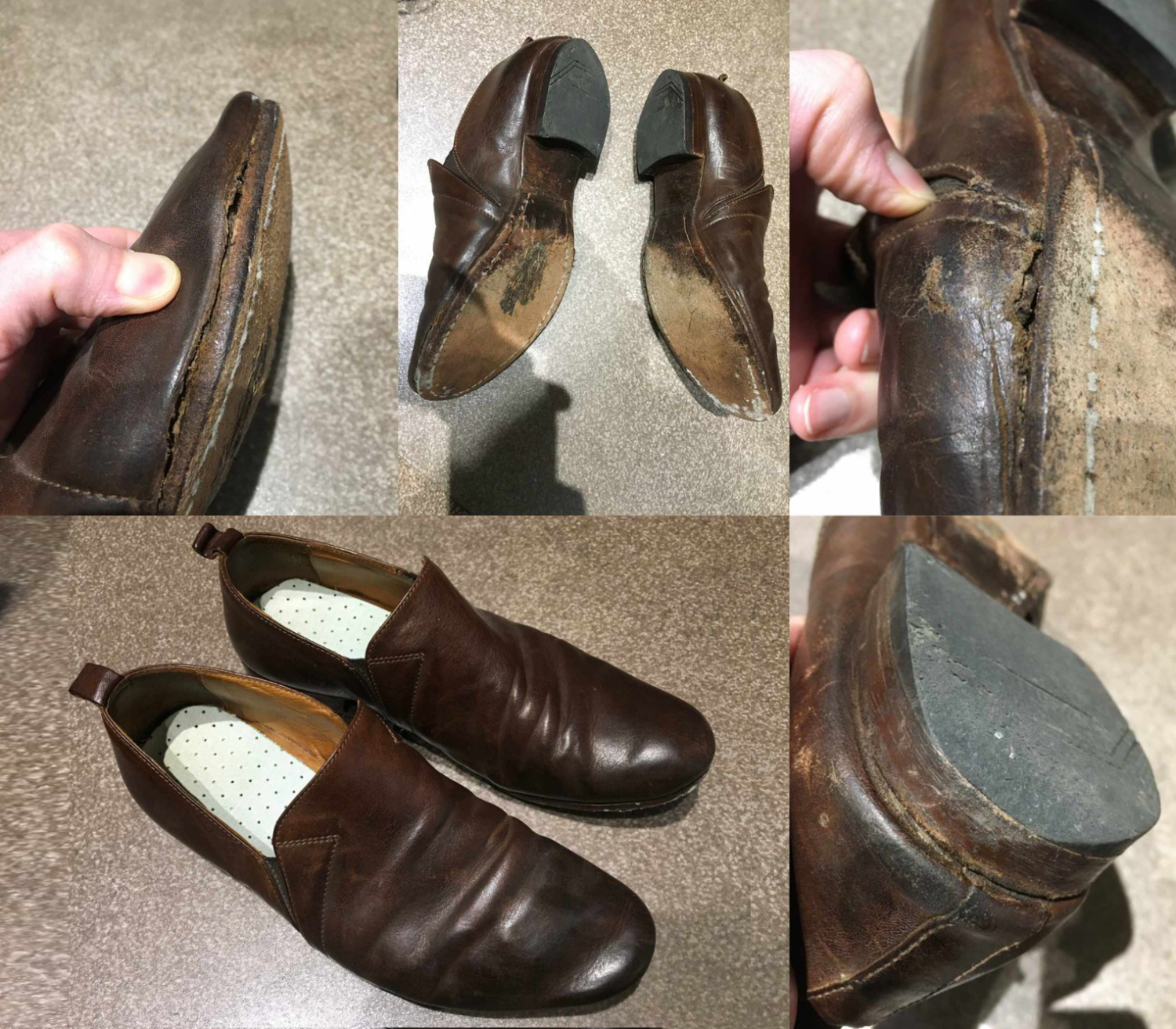 ---
The friendly stranger, James McKiven of Whitstable Craft Co. replied:
"What a fantastic idea, I've actually always wanted to do this!"
James makes handmade leather wallets. He also makes 'Indie Bites', a podcast of bite-sized conversations with indie hackers that have started small, profitable and bootstrapped businesses.

I'd been following James @jmckinven on twitter for months. I occasionally see a photo of something he's hand-crafted and hand-stitched. It made me wonder, might James be able to benefit from my old leather shoes? maybe up-cycle them into something useful to someone, instead of me just binning them? And if James was able to miraculously up-cycle the aged leather patina into something sellable, perhaps the Fiorentini + Baker story and provenance would be of interest to James or his buyers?

I'd purchased my Fiorentini + Baker's back in 2006/7. They are the only shoes I've ever owned that are worthy of a suit. I can't remember exactly where I bought them or what I paid. I began trading as fellow™ in 2007 so a single pair of smart shoes and a suit were a professional necessity.

Now, fifteen years on, my trusty shoes have lived a good life. They've walked miles around the world. They visited numerous countries. They've got story and provenance. There's even a video of them opening The Skiff in Brighton in 2008.
James pinged me his address. I put them in the post. All the cobblers I'd spoken to couldn't repair or recycle them…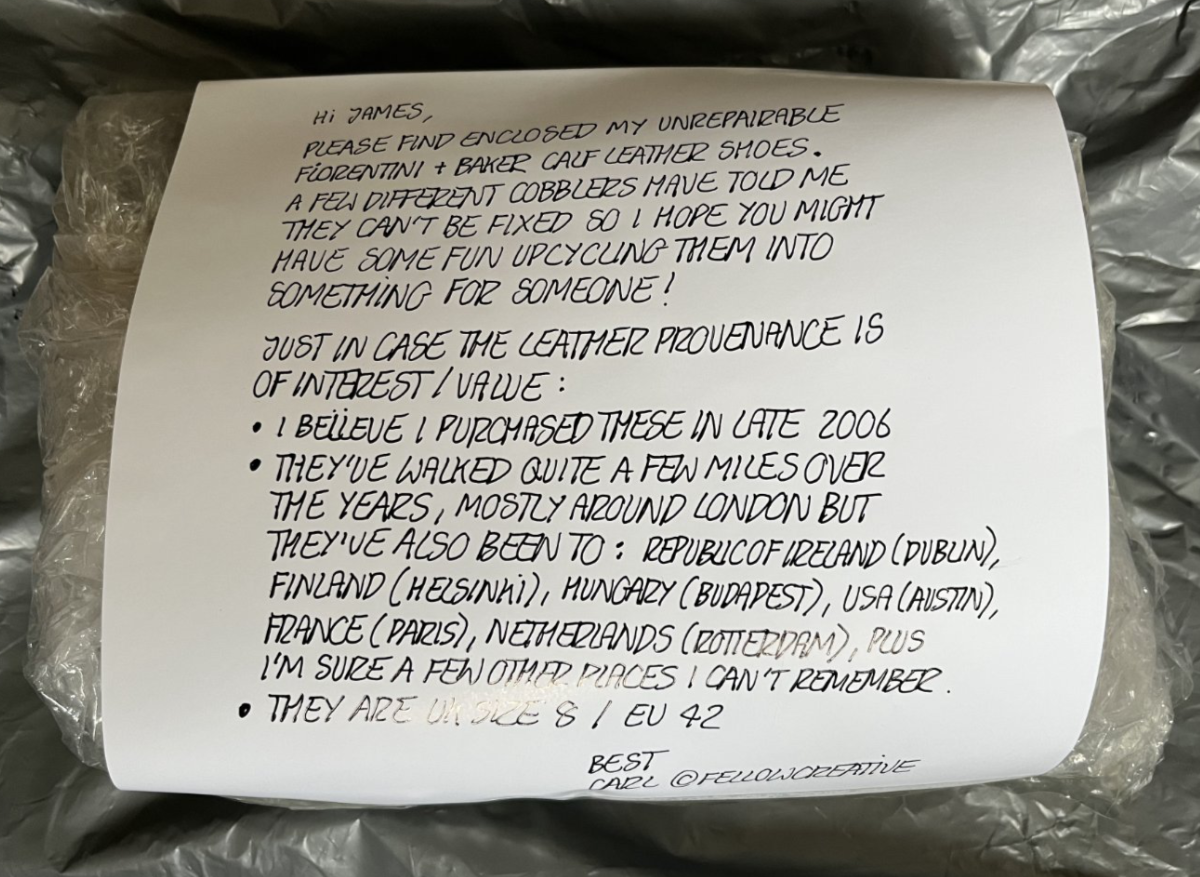 ---
On the 24th May 2023 I got a surprise message from James:

"Carl what's your return address?! I have a gift for you"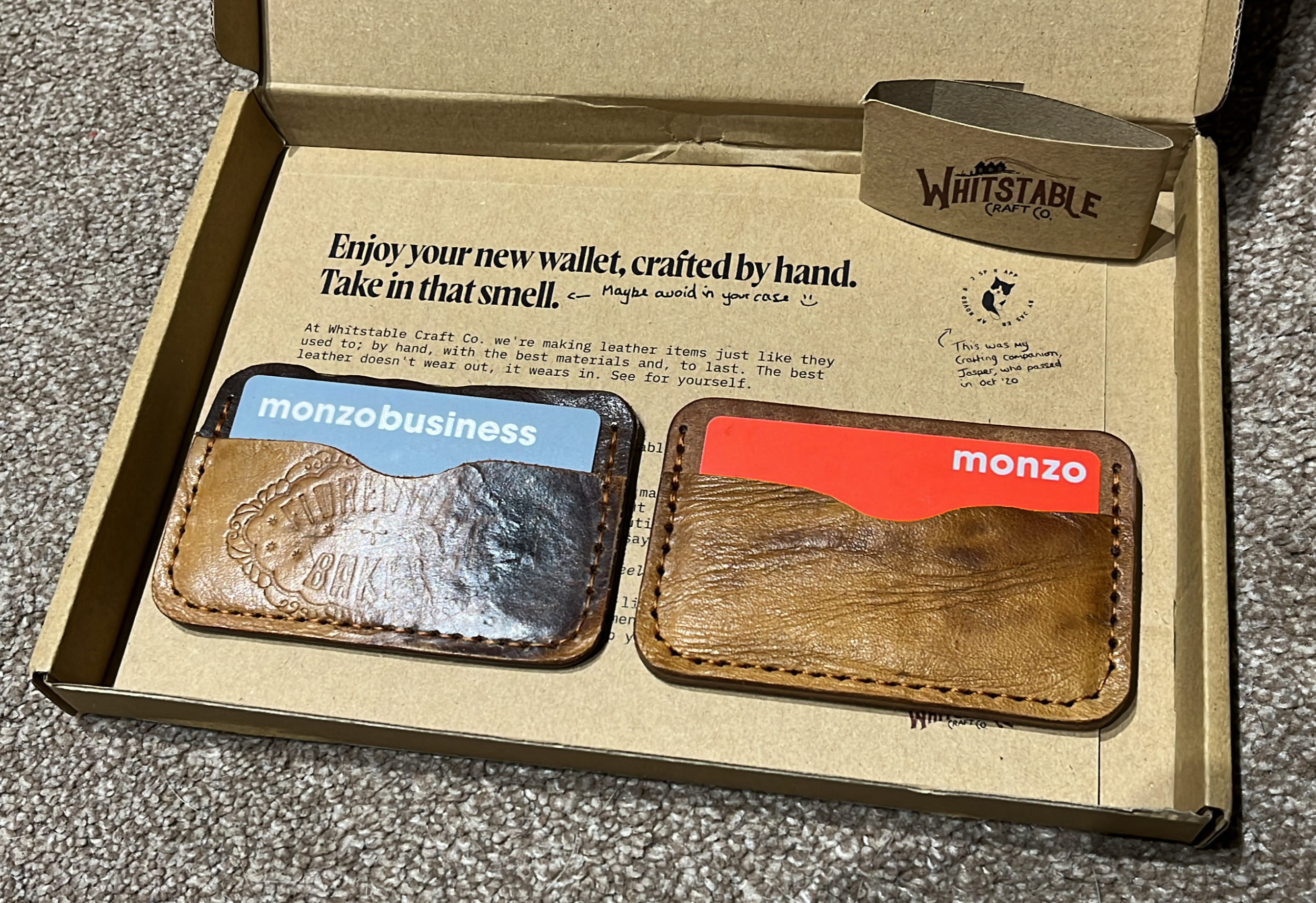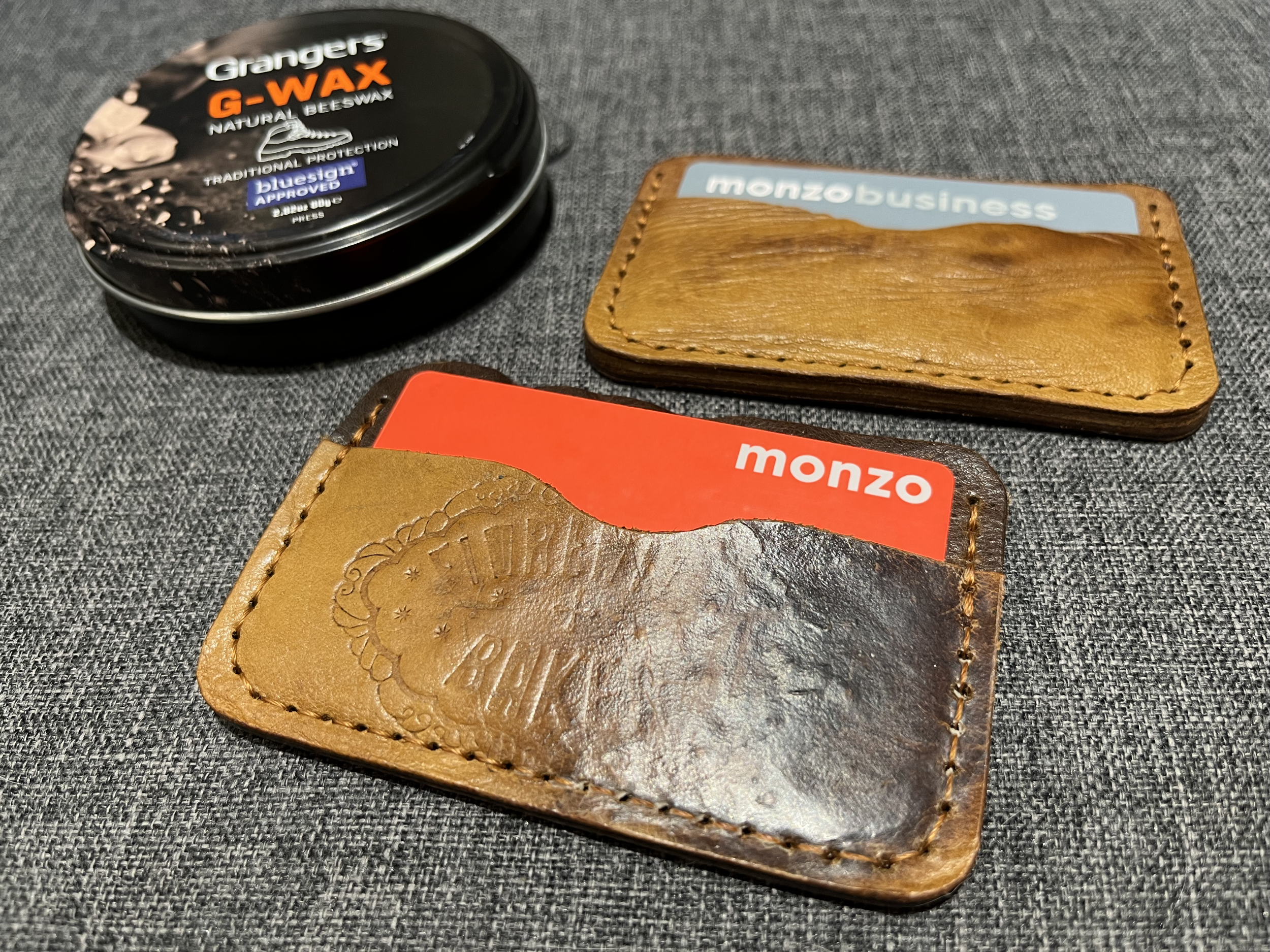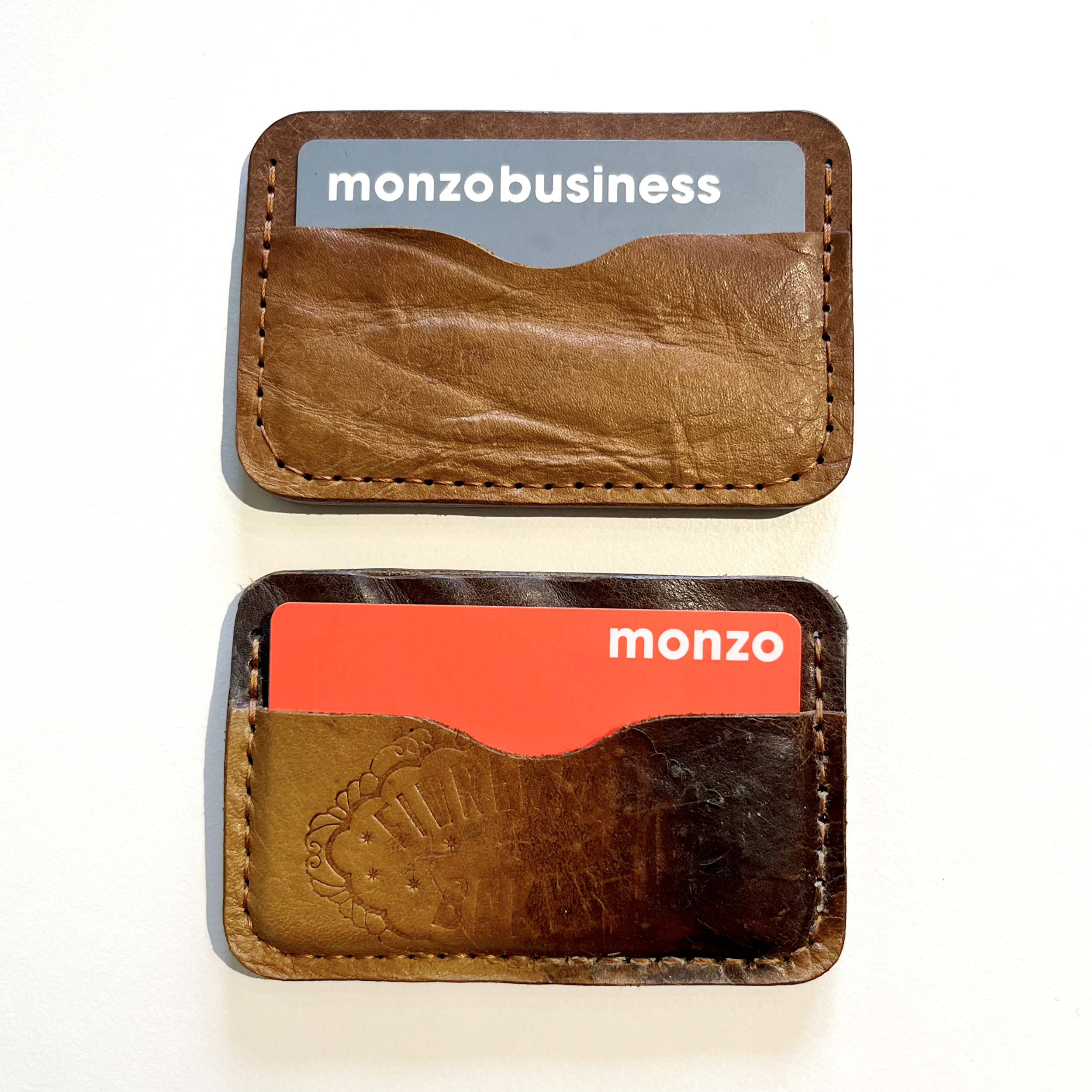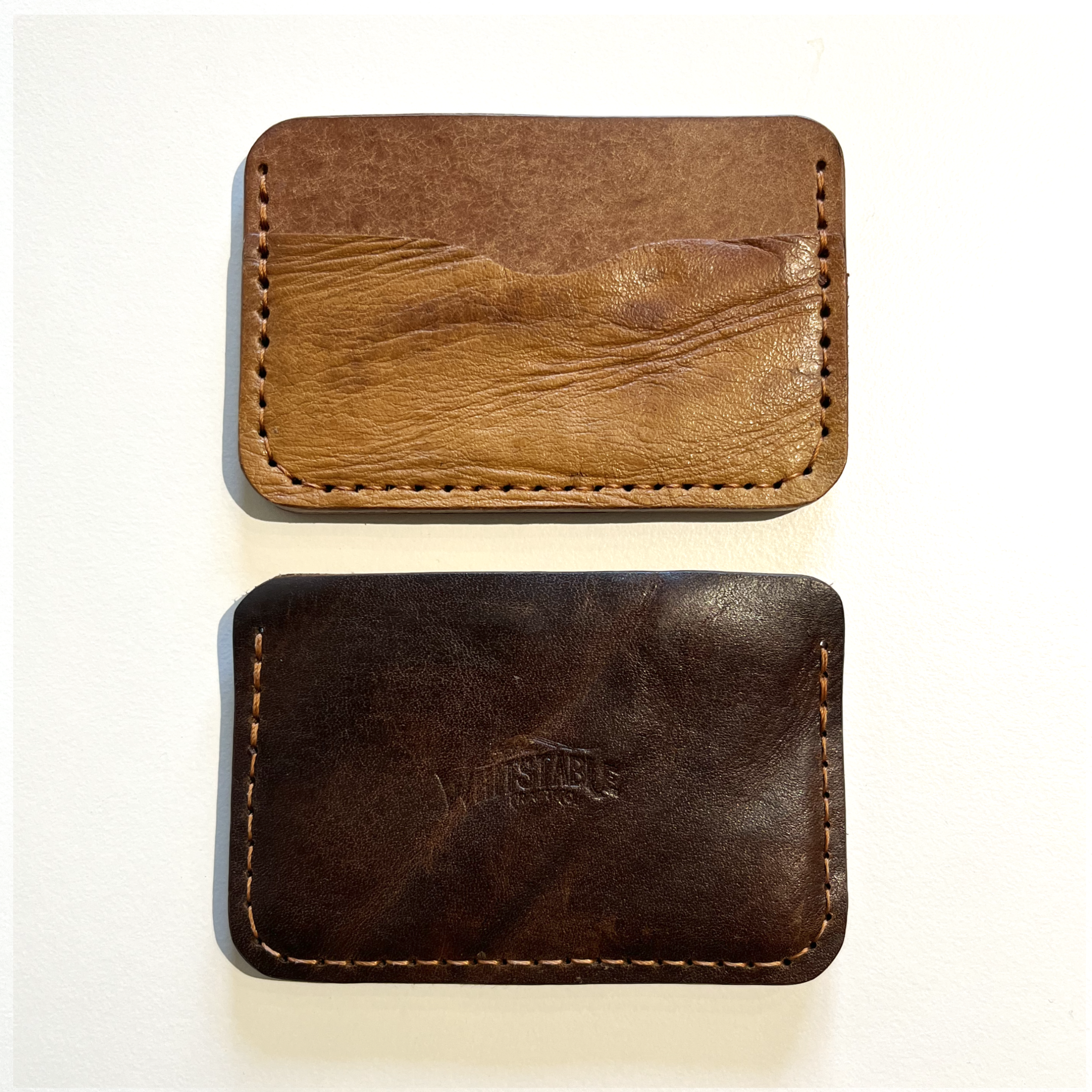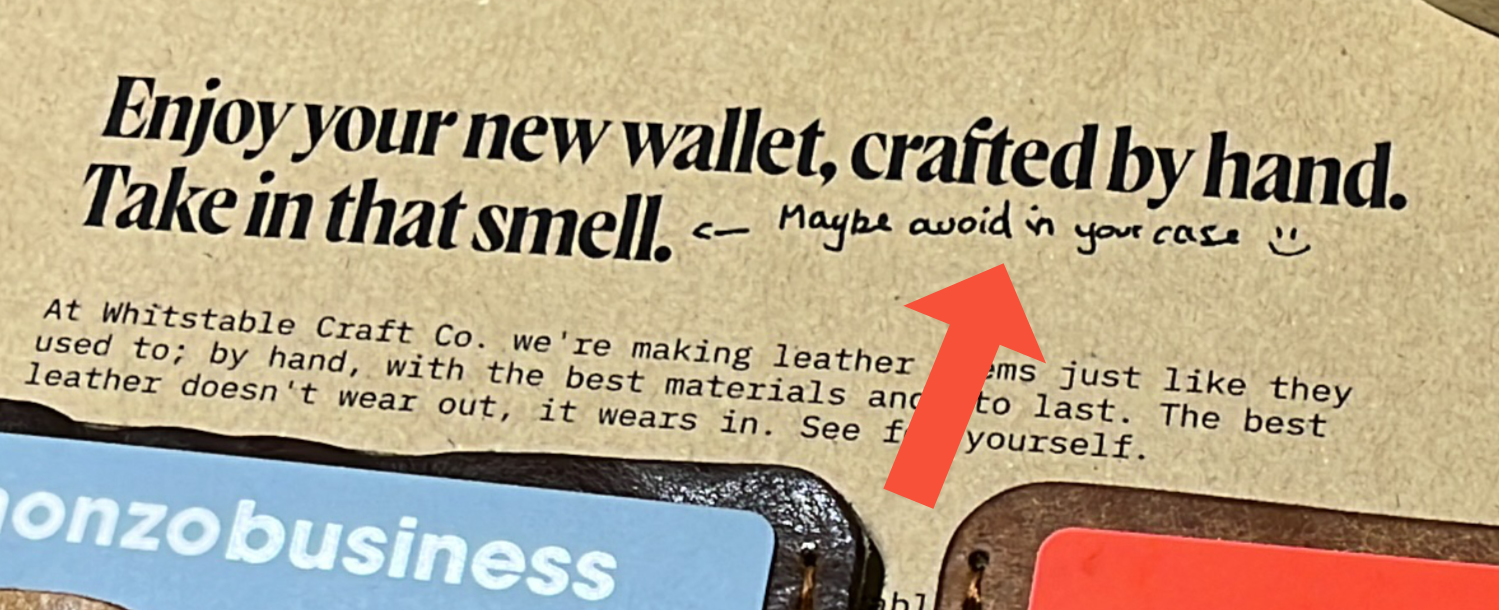 I remain absolutely astonished by James' craft and kindness, and the hand-written humour above shows a truly amazing customer service approach which made me smile. As I write this blog post I'm unaware if James was able to make any more items from my shoes (hopefully yes 🤞) but I just had to share this post with the Internet and to say a huge personal thank you to James.
For anyone seeking a new wallet or gift for someone I really do recommend checking out Whitstable Craft Co.
---
PS. knowing that 'Indie Bites' is created by James and listened to by people bootstrapping businesses, this whole experience made me ponder:
[market] value is entirely dependent on how you frame the problem you're solving.



Turning family heirlooms and stories into meaningful useful things. Those things become greater and more valuable than the sum of its parts. The products we make/build are not always what we sell. The story/value/relationship/meaning often is.

Natural connections can exist between different products. Ie. Wallets and Bank Cards go together. Other brands/missions/things may align/fit our products too. Ie. Sustainable up-cycling, social causes such a Blood Donor Card or Organ Donor Card instead of a Bank Card, etc. Connections may enable product/mission bundling or partnerships.
"If you only walk on sunny days, you will never reach your destination." – @paulocoelho
There are two general approaches to life and business: transactions and relationships. Transactions offer success but only relationships offer meaning. Relationships are a more important currency than money itself.
"There is no road, the road is made by walking. This is true for any creative process. You take a step into the unknown where you have to allow yourself to get lost in order to find the right way forward." – Antonio Machado

Facebook is where you connect with people you went to school with but Twitter is where you can connect with people you wish you'd gone to school with.
"Buy well. Buy once." My decision to invest in good shoes many years ago is quite literally looking after my money long-term now – my shoes are now my wallet!

---
PPS. Early in this post I briefly mention https://theskiff.org. The Skiff is Brighton's oldest dedicated coworking space. If you're an indie business owner or freelancer who needs/likes to escape your home office once a week please do feel free to say hello. I'd be very happy to show you around and introduce you to our friendly community of like-minds. Either way, I'll definitely be talking to fellow skiff mates about James and Whitstable Craft Co.